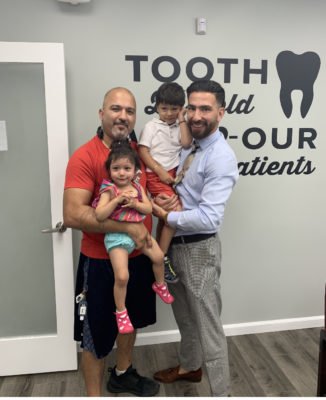 Dr. Pooyan Nasibi strives to provide the highest standard of care to all patients — regardless of their background, culture, or personal characteristics. Dr. Nasibi earned his Doctor of Dental Surgery degree from USC's Herman Ostrow School of Dentistry in 2013. He spent the next two years in the advanced specialty education program in Pediatric Dentistry at Loma Linda University. The Dr. enjoys martial arts, drawing, and staying fit.
Dr. Pooyan Nasibi received the Dean's List Award while at USC multiple years, named the Most Active Community Outreach Member in the Alpha Omega Fraternity, and is a Diplomat of the American Board of Pediatric Dentistry.
Dedicated to growing as a doctor and a member of his community, Dr. Nasibi volunteers at the USC mobile dental clinic in Bakersfield, Escondido, Cambodia, Columbia, and Pasadena. He conducts comprehensive oral examinations and treatment plans, provides appropriate oral hygiene instructions to parents, and performs a variety of restorative treatments, prophy, and fluoride varnish for children and young adults.
Professional memberships and affiliations include:
American Board of Pediatric Dentistry
American Academy of Pediatric Dentistry
American Dental Association
California Dental Association
Alpha Omega Dental Fraternity
American Association of Dental Research
Student Professionalism and Ethics Association
USC Dental Humanitarian Outreach Program
Building Community
Dr. Nasibi stays busy giving back to the community by presenting at various elementary and junior high schools in the greater Los Angeles district for the Boys and Girls Club. He also helps distribute food and oral health instruction techniques to the homeless for Meals on Wheels. Lastly, Dr. Nasibi reviews and presents pediatric journal articles and discusses the history of pediatrics treatment — being directly involved in the development and advancement of pediatric care.
He now strives to provide the best pediatric dentistry in Montebello.
Our Philosophy
Going to the dentist can be a stressful time. Our spacious, state-of-the-art office is designed to create an atmosphere that puts you at ease. Our friendly and knowledgeable professionals will provide compassionate modern and effective dental care. As your Montebello pediatric dentist, we strive to make going to the dentist convenient and affordable. For your convenience, we offer same-day appointments, accept most dental insurance plans, and provide flexible payments for those who are uninsured.
You deserve to enjoy a beautiful smile, so call us today at (323) 597-1195